Starting School at Killean P.S.
Starting School at Killean P.S.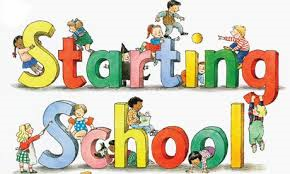 The first day of school is a major event in the life of a child. The staff at St Michael's Killean will make your child's first experiences very positive. We pride ourselves on our warm welcome and we see every child as a unique and special individual. We recognise that a child needs to feel safe and happy at school and once this feeling of security is intact the child is ready to soar!

As you can see from our vision, it is our aim for every child in our school to achieve their full potential in all areas of life, both academically and socially. To achieve this aim we have a highly dedicated and professional staff of teachers and classroom assistants to support your child in all areas of his or her development.

You, as parents of children new to St Michael's Killean are most welcome to visit us, to have a look around the school and meet the teachers while making the important choice as to which school will best suit your child. We have no doubt that once you have experienced the warm and supportive atmosphere in our school you will be convinced that this is the best place for your child to receive their education.

Please read our Welcome to P1 booklet and admissions letter by clicking on the link below.
Killean Primary School, 29 Killeen School Rd, Newry, Co. Down BT35 8RX Phone: 028 3084 8522